Quit Claim Deed Lawyers in Romeoville and Bolingbrook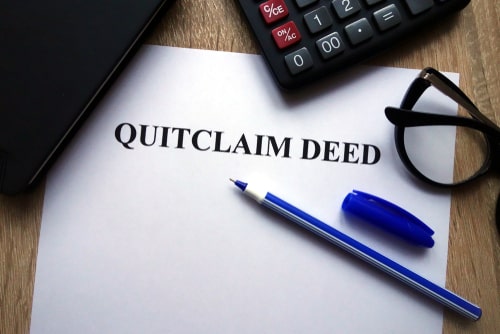 A quitclaim deed in Illinois is a legal document that transfers real estate ownership of property from one party to the next party. A significant reason for using a quitclaim deed is when transferring property interest in a former marital residence, which may be required by a divorce decree or a marriage settlement agreement. Additionally, quitclaim deeds are often used to transfer property ownership among family members or to remove someone from real property.
To properly prepare a quitclaim deed properly, it is crucial to work with experienced real estate attorneys specializing in quitclaim deed preparations. We work with you over the telephone and obtain a copy of your deed and you simply return your original paperwork back to our office. An office visit is unnecessary.
At Gateville Law Firm, our real estate team specializes in real estate and quitclaim deed law. We have prepared thousands of quitclaim deeds in the past several years. Our team consists of former title insurance employees who have extensive experience in handling real estate and quitclaim deed transactions. Our staff understand the potential challenges that may arise from an improperly prepared quitclaim deed. Generally, the title insurance company discovers the problem, which complicates refinances and sales of homes.
A quitclaim deed may also be used to modify existing title issues or adding or removing a spouse or family member to the title. A quitclaim deed will not add a family member to the mortgage. The only way to add a family member or remove a person from the mortgage is by refinancing the property into or outside of their names.
It is essential to realize that a quitclaim deed does not provide any protection against claims on the property's title, and it is always a good idea to consult with a real estate attorney before using one. We generally will conduct a basic overview and recommend corrective action when appropriate. If necessary we will recommend that a property search be conducted to detect any problems. We have found issues previously and it has allowed the families to resolve the issues before additional deaths or incapacities occur, which make the problem more costly and difficult to fix.
A quitclaim deed does not guarantee that a property is deficient of liens and encumbrances, unlike a warranty deed. A warranty deed is generally used during a sale of a residence unlike a quit claim deed. A quit claim deed is typically used when one party wants to add or remove another party from title.
Woodridge Quit Claim Deed Attorneys & Nearby Areas
At Gateville Law Firm, we understand the importance of precision in preparation of quitclaim deeds. Simple mistakes can result in significant legal issues, which may cloud title or must be fixed. We oversee quit claim deeds throughout the Chicagoland area. We are the leaders in preparation of quitclaim deeds. Call us now at 630-780-1034 to assist you with preparation of your quitclaim deed.
Questions?
Contact Us Today
Call 630-780-1034 or fill out the form below to set up a free consultation today:
NOTE: Fields with a
*
indicate a required field.
The use of the Internet or this form for communication with the firm or any individual member of the firm does not establish an attorney-client relationship. Confidential or time-sensitive information should not be sent through this form.
I have read and understand the Disclaimer and Privacy Policy.